Three Circles of Alemat Mentoring Programm
Three Circles of Alemat was formed in response to the low representation of women in academia and the challenges they face. The objective of the Mentoring Toolkit for mentors and mentees is to assist in creating circles of mentoring and social networks that promote their professional life and boost their personal well-being. The toolkit provides guidelines that are general enough to support a grass root approach for unique solutions accommodating local context through holistic mentoring. This toolkit is geared towards organizations, institutions and group entities.
The toolkit is divided into different sections covering key issues and practical steps to apply mentoring in your work environment.
The Programm recived a PEER grant https://sites.nationalacademies.org/PGA/PEER/PEERscience/PGA_152063
Nature
http://blogs.nature.com/naturejobs/2017/09/29/mentoring-a-powerful-tool/
Programm Website
Gender in science
The Arab gender conference
The Gender Summit is a platform for dialogue where scientists, policymakers, gender scholars and stakeholders in science systems examine new research evidence showing when, why, and how biological differences (sex) and socio-cultural differences (gender) between females and males impact on outcomes. The aim is to reach consensus where improvements to science knowledge and science practice are needed and who should take action.
Our aim is to make gender equality in research and innovation the norm and to embed gender as a primary dimension of quality. The Gender Summit started in Europe in 2011 and has helped to influence how gender is addressed in Horizon 2020, the biggest EU Research and Innovation programme ever with nearly €80 billion of funding available over 7 years (2014 to 2020), where it is now recognized through three criteria: (A) greater gender equality by increasing the number of women in scientific roles; (B) improved integration of sex-gender analysis in research process; and (C) achieving cross-cutting benefits of gender-sensitive and responsive research and innovation.
 The aim of this event is to explore establishing a Gender Summit platform for the Arab World, which would join similar platforms already active in Europe, North America, Asia Pacific, Africa, and Latin America. The Gender Summit was created in 2011 with the aim to enable dialogue and consensus between scientists, gender scholars, policy makers and stakeholders in science endeavours on the improvements needed where scientific evidence shows unequal quality of research outcomes for women and men, or where results open up new research questions and new applications of science knowledge with benefits for society. This event brings together Arab and international scientists and policy makers to start the dialogue and map out topics that are particularly relevant in the Arab context, as well as those of shared interest for future discussions.
https://gender-summit.com/past-summits/gs13-arab-world
The IDEAL Society
We are a global, intergenerational network of policy makers, thinkers, innovators, educators, entrepreneurs, implementers, and catalysts from diverse disciplines and backgrounds who have come together to pursue one vision:



To transform society so that both women and men can pursue their dreams, fulfill their potential, exercise leadership, and be respected for their achievements.
Books
Five Scarves: Doing the Impossible, If we can reverse cell fate why cant we redefine success
Rana Dajani's Five Scarves: Doing the Impossible—If We Can Reverse Cell Fate, Why Can't We Redefine Success? is an exploration of the intersections between gender, race, religion, and science told through the eyes of one of the world's leading Muslim women scientists. Dajani, a Professor of Molecular Biology at the Hashemite University of Jordan, points to the 2006 discovery of induced pluripotent stem cells which allowed researchers to reverse engineer embryonic life forms, and asks us why a similar breakthrough might not be possible in the pursuit of gender equality. Seeking a paradigm shift in the fight against women's oppression, Dajani makes the case for radically transforming the social institutions, cultures, and customs of our world to fully validate and support all women.
The reader is led through the many phases of Dajani's dizzying life journey, from the bustling world of Amman, to the quiet neighborhoods of Iowa City, back through Jordan's universities, schools, and refugee camps, and into the halls of Harvard, Cambridge, Grenoble, and the United Nations. The author wears five scarves, those of a mother, teacher, scientist, social entrepreneur, and feminist. Her story tells of all the challenges she's faced and the innovations she's made in everything from genetic analysis and science pedagogy, to grassroots social change and Islamic perspectives on evolution. Finally, Dajani offers a provocative and far-reaching meditation on the fight for women's liberation today and what it would take to build a truly equal and humane society.
Reviewed in Nature
https://www.nature.com/articles/d41586-018-05891-7
https://www.natureasia.com/en/nmiddleeast/article/10.1038/nmiddleeast.2018.64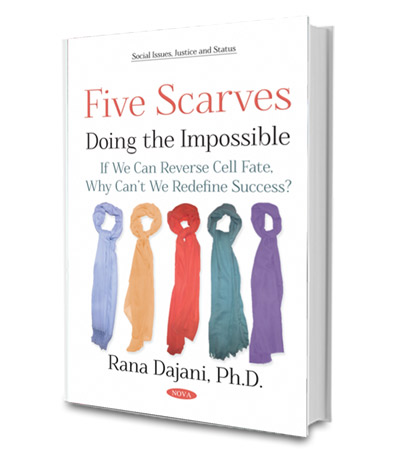 https://www.amazon.com/Five-Scarves-Impossible-Reverse-Redefine/dp/153613774X
TEDxPSUT Doing the Impossible, If we can reverse cell fate why cant we redefine success
https://www.youtube.com/watch?v=duqw1Kj3wyM
Harvard Radcliffe Talk
https://www.radcliffe.harvard.edu/video/five-scarves-doing-impossible-rana-dajani
The Sequel, Work in progress
Professor Dajani is writing at the Jepson School of Leadership University of Richmond a continuation where she left off in the Five Scarves.
Stay tuned…
Articles
https://www.nature.com/news/how-women-scientists-fare-in-the-arab-world-1.11705
https://www.natureasia.com/en/nmiddleeast/article/10.1038/nmiddleeast.2014.285
https://www.tandfonline.com/doi/abs/10.1080/03080188.2019.1607048